Overview
The American College of Sports and Medicine (1) estimates that the average adult takes between 5,000 and 10,000 steps per day. The brunt of this activity is borne by the bones, muscles and ligaments of the foot. Healthy feet have strong, wonderfully flexible ligaments which are designed to support standing, walking and running. Plantar Fasciitis (pronounced "plantar fash-ee-eye-tis") is defined as inflammation of, or damage to, one of the most important ligaments in the foot - the plantar fascia. The plantar fascia ligament is located along the sole of your foot. It is made up of fibrous tissue that stretches outward from the heel bone, like a strong piece of elastic, and then branches out across the arch and through the ball area of the foot toward the toes.
Causes
When the foot moves, the plantar fascia stretches and contracts. Plantar fasciitis is caused by the repetitive overstretching of the plantar fascia. If the tension on the plantar fascia is too great, this overstretching causes small tears in the plantar fascia. This in turn causes the plantar fascia to become inflamed and painful. Factors that contribute to the development of plantar fasciitis include having very high arches or flat feet, gender, while anyone can develop plantar fasciitis, it tends to occur more commonly in women, exercises such as running, walking and dancing, particularly if the calf muscles are tight. Activities or occupations that involve walking or standing for long periods of time, particularly on hard surfaces, wearing high heeled shoes or shoes that do not offer adequate arch support and cushioning, being overweight, additional weight increases the tension on the plantar fascia, poor biomechanics, extra tension is placed on the plantar fascia if weight is not spread evenly when standing, walking or running. Some cases of plantar fasciitis may be linked to underlying diseases that cause arthritis, such as ankylosing spondylitis.
Symptoms
Among the symptoms for Plantar Fasciitis is pain usually felt on the underside of the heel, often most intense with the first steps after getting out of bed in the morning. It is commonly associated with long periods of weight bearing or sudden changes in weight bearing or activity. Plantar Fasciitis also called "policeman's heel" is presented by a sharp stabbing pain at the bottom or front of the heel bone. In most cases, heel pain is more severe following periods of inactivity when getting up and then subsides, turning into a dull ache.
Diagnosis
Diagnosis of plantar fasciitis is based on a medical history, the nature of symptoms, and the presence of localised tenderness in the heel. X-rays may be recommended to rule out other causes for the symptoms, such as bone fracture and to check for evidence of heel spurs. Blood tests may also be recommended.
Non Surgical Treatment
Treatment for plantar fasciitis should begin with rest, icing, and over the counter medications. As mentioned above, an orthotic is a device that can be slipped into any pair of shoes and can often relieve pain and help to reverse the damage and occurrence of plantar fasciitis. They do this by adding support to the heel and helping to distribute weight during movement. In addition to orthotics, many people consider night splints for treating this condition. These devices are worn during the night while you sleep, helping to keep the plantar fascia stretched to promote healing. Physical therapy has also become a common option. With this conservative treatment alternative, a physical therapist designs a set of exercises that are intended to address your specific needs in order to promote healing.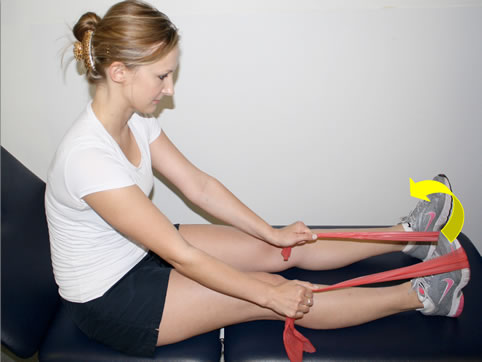 Surgical Treatment
Like every surgical procedure, plantar fasciitis surgery carries some risks. Because of these risks your doctor will probably advise you to continue with the conventional treatments at least 6 months before giving you approval for surgery. Some health experts recommend home treatment as long as 12 months. If you can't work because of your heel pain, can't perform your everyday activities or your athletic career is in danger, you may consider a plantar fasciitis surgery earlier. But keep in mind that there is no guarantee that the pain will go away completely after surgery. Surgery is effective in many cases, however, 20 to 25 percent of patients continue to experience heel pain after having a plantar fasciitis surgery.
Stretching Exercises
You may begin exercising the muscles of your foot right away by gently stretching them as follows. Prone hip extension, Lie on your stomach with your legs straight out behind you. Tighten up your buttocks muscles and lift one leg off the floor about 8 inches. Keep your knee straight. Hold for 5 seconds. Then lower your leg and relax. Do 3 sets of 10. Towel stretch, Sit on a hard surface with one leg stretched out in front of you. Loop a towel around your toes and the ball of your foot and pull the towel toward your body keeping your knee straight. Hold this position for 15 to 30 seconds then relax. Repeat 3 times. When the towel stretch becomes too easy, you may begin doing the standing calf stretch. Standing calf stretch, Facing a wall, put your hands against the wall at about eye level. Keep one leg back with the heel on the floor, and the other leg forward. Turn your back foot slightly inward (as if you were pigeon-toed) as you slowly lean into the wall until you feel a stretch in the back of your calf. Hold for 15 to 30 seconds. Repeat 3 times. Do this exercise several times each day. Sitting plantar fascia stretch, Sit in a chair and cross one foot over your other knee. Grab the base of your toes and pull them back toward your leg until you feel a comfortable stretch. Hold 15 seconds and repeat 3 times. When you can stand comfortably on your injured foot, you can begin standing to stretch the bottom of your foot using the plantar fascia stretch. Achilles stretch, Stand with the ball of one foot on a stair. Reach for the bottom step with your heel until you feel a stretch in the arch of your foot. Hold this position for 15 to 30 seconds and then relax. Repeat 3 times. After you have stretched the bottom muscles of your foot, you can begin strengthening the top muscles of your foot. Frozen can roll, Roll your bare injured foot back and forth from your heel to your mid-arch over a frozen juice can. Repeat for 3 to 5 minutes. This exercise is particularly helpful if done first thing in the morning. Towel pickup, With your heel on the ground, pick up a towel with your toes. Release. Repeat 10 to 20 times. When this gets easy, add more resistance by placing a book or small weight on the towel. Balance and reach exercises, Stand upright next to a chair. This will provide you with balance if needed. Stand on the foot farthest from the chair. Try to raise the arch of your foot while keeping your toes on the floor. Keep your foot in this position and reach forward in front of you with your hand farthest away from the chair, allowing your knee to bend. Repeat this 10 times while maintaining the arch height. This exercise can be made more difficult by reaching farther in front of you. Do 2 sets. Stand in the same position as above. While maintaining your arch height, reach the hand farthest away from the chair across your body toward the chair. The farther you reach, the more challenging the exercise. Do 2 sets of 10. Heel raise, Balance yourself while standing behind a chair or counter. Using the chair to help you, raise your body up onto your toes and hold for 5 seconds. Then slowly lower yourself down without holding onto the chair. Hold onto the chair or counter if you need to. When this exercise becomes less painful, try lowering on one leg only. Repeat 10 times. Do 3 sets of 10. Side-lying leg lift, Lying on your side, tighten the front thigh muscles on your top leg and lift that leg 8 to 10 inches away from the other leg. Keep the leg straight. Do 3 sets of 10.